How To Photograph Your Newborn In Home
HOW TO PHOTOGRAPH YOUR NEWBORN IN HOME
To all the parents to be, expecting a child very soon, in the next uncertain few months, I'm sorry.
To my families who booked a maternity session and/or a newborn session with me, I'm sorry.
I'm sorry that this Covid 19 has taken literally everything away from us. It has also taken the opportunity to capture this important milestone in your families life.
While there is a ban on non essential travel, please be safe and sane. It is a difficult time, your family needs to be safe and my little family also.
As a photographer and a mother, I understand how hard and frustrating this situation is. So whilst we can't photograph your precious moments, my good friend Cat from Sapphire and Stone Photography (who is also a mum of 3 and photographer) and I have brainstormed together and put a blog post for not only our clients who are missing out on photoshoots, but also for ALL the new parents who will be missing out, while Covid 19 is still around.
With this post, we will help you create your own newborn images from home. Give you some tips on how to photograph your newborn in home.
Here are some top photography tips for you, to guide you as best we can;
HOW OLD?
– For the relax and sleepy shots, newborn babies are best captured between 5-10 days old.
– Older newborn babies are more alert, therefore you will have more awake images in your gallery.
– In the morning after a full feed is always the best time to start your shoot. A baby with a full belly will be happy and sleepy. This will give you more time and a greater likelihood of having sleepy images regardless of their age.
WHEN?
– The best time to photograph your newborn baby is in the morning while everyone is fresh and in their best mood.
Usually around 10am.
WHERE?
–  To photograph your newborn, choose a room where you have the best morning light.
– When shooting in home, the rooms generally used are the parents bedroom, the baby's room or the lounge room. However, in this post, I will show you examples from my studio, that has a bedroom type setup.
Here is is below;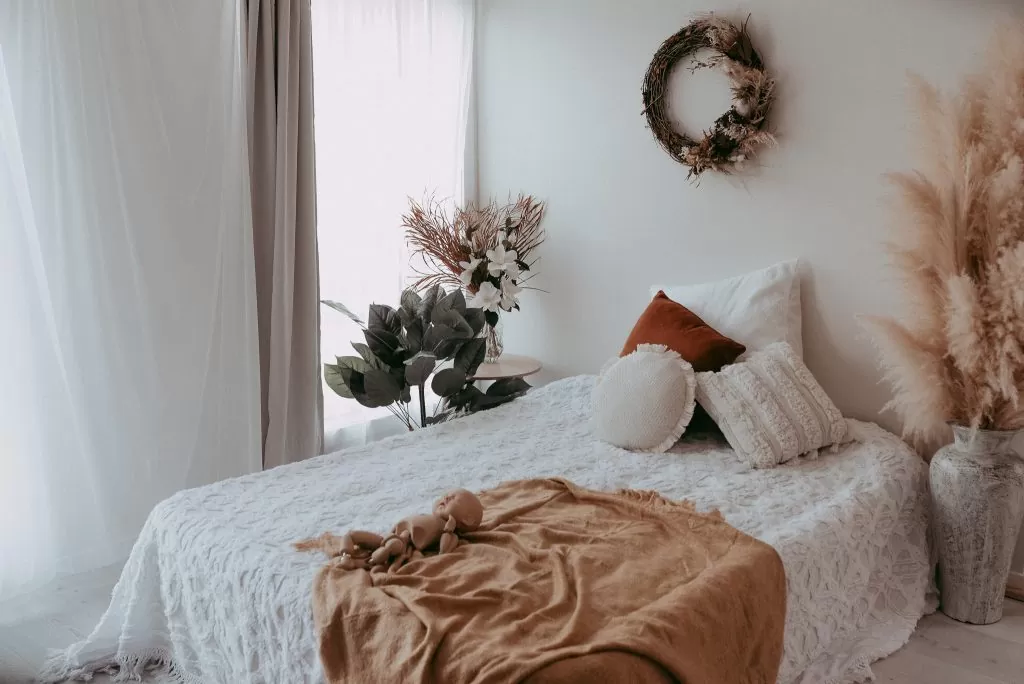 THINGS TO CONSIDER:
– We strongly advise AGAINST any poses that only professional photographers know how to do. Some newborn poses are mainly post edited in photoshop and are NOT safe to apply. Some types of heavily posed newborns are only done by professional photographers that know exactly how to manipulate babies in a safe and correct way. In this post, you will have examples of easy and simple images you can take.
– A warm house for your little one to be comfortable while taking images. My studio is generally set at 24-25 degrees. If you have a larger room, slightly warmer.
– Turn all your house light off, only use your light from the window.
– Your photoshoot may take a couple hours get a few images. Don't despair – we know it's hard work! But keep trying as long as your baby and your family is happy. If it's simply not working, try a little later, or tomorrow.
OK Let's get started. I have a Stand In Baby as my baby model, with my children for sibling images, also adding images from previous sessions for you to see.
SET UP AND LIGHTING
– One of my favourite rooms to photograph your newborn baby in is in the bedroom. Most of the time, the bed is close to a window, on a 90 degree angle. If your room is not set up similar, try getting a hand to re position furniture in a way that works for this shoot.
– This set up provides great soft lighting.
– Place yourself where the round spots are in the diagram below, and direct your camera/phone to the window.
– Use a plain blanket to wrap baby in and also use blankets to use as backdrop. The one I'm using is from Kmart.
– Declutter things in the background.
– Use white noise during your session. It helps settle the baby during your photoshoot. There are plenty of apps you can use.
CAMERA SETTINGS
– If you are using a DSLR, have your settings on AUTO. The camera will do all the work for you.
– Avoid using the flash camera
– MACRO settings for close up images (Try to position the little details close to the window for these macro/up close shots. The light will allow for an image that pops your subject, rather than creating a dull lit, 'flat' image in shadows.)
WITH SIBLINGS
– If there are siblings involved, I always start with them first. Then they can go and play for a little while.
– Don't stress too much if they don't want to cooperate at first. Even my children don't always play nice with me. But I try to engage with them and make it fun for the siblings. (Bribery works well!)
– With siblings, I always put Baby closest to the window.
– Don't stress too much if they don't want to cooperate at the beginning or even wanting to look into the camera. Get them to do something, like giving you a kiss, rubbing noses together softly, or getting them to show you where the baby's nose is. Another cute shot is when you ask them to whisper a 'secret' into baby's ear.
– Photograph from above or where those rounds spots are in the set up photo. Squat down, and then stand up and vice versa for different perspectives.
– Here are 2 examples.
BABY WITH MUM OR DAD
– Mum and dad can alternate to take photos of one another with baby and siblings. Again, sitting on the bed all together. Where the window is on a 90 degree angle.
– Again, snap away with different angles; straight on, sides and up, close and pulled back.
– It is all about the connection, holding your baby and the interactions with your other children and lots of kisses.
– To get even more intimate, ask Dad to take off his shirt and show off his amazing Dad bod! Place baby on his chest with only a wrap on, creating lots of skin on skin contact. This allows an image show more connection between subjects.
– Get Dad to stand above you while you are breastfeeding, or bottle feeding your new babe. It is an angle that creates interest. Make sure you are facing the window for this one or on a slight 45 degree angle off the side of the bed.
FAMILIES
– This one will be a bit tricky to achieve. However if you have a tripod to set your camera on or a self timer phone, you can place it where these spots are using a chair or side table. It will be the best angles to achieve images like these ones.
THE BABY
– Baby can also be taken by him self, posed on your bed.
– Notice the 2 angles below, baby can be posed on your bed in these positions.
– The light from your window should hit on your baby's face from the side, always at a 90 degree angle or from above. This creates beautiful shaded light on your baby's face.
– Also get all the little details, their eyes, their hands, and the ones that we love the most are the little toes.
– Photograph from a birds eye view, the side. And also photograph your newborn close in and further away. But not too far to constantly spot your baby. NEVER leave them unattended or stand further away than 1 meter at all times. Make sure that someone is close by watching to keep baby extra safe.
– Here some example on safe simple poses with baby on his/her back. And gently move his/her head.
While taking all of these photos of your baby and new family, you may find that Baby will need a break. She/he will stir for a feed, a nappy change or more cuddles to settle them back to sleep.
Please do NOT try to pose baby in any fancy ways you see from professional photographers. These would be 2 images merged together in photoshop, to create an effect of 1 single image. One of the safest poses would be the ones of baby on his/her back.
Hang in there guys! I know there is an end to this crazy situation and we will soon be able to be our normal selves.
While the ban on non essential travel is on and we are in isolation, I will be happy to help you during your session via video chat. Or alternatively, I will be happy to edit your images FREE of charge, whether you are taking your images from a DSLR or your phone. This includes basic editing with colours, lighting and cropping.
 This applies whether you want your session in the studio or exploring and rediscovering our beautiful Melbourne again!
Until then if you have any questions, please don't hesitate to email me at [email protected]
Stay well, stay home, be safe and sane with your little family! All the best to you all for the last few weeks of your pregnancy!
Love
Tiff and Cat!
xx